The 1968 engineering graduates held their 50th anniversary reunion dinner in the Randolph Hall in October 2018. Twenty-nine of us attended with most of our partners, and Vice-Principals Frank Coton and Neal Juster, both engineers, were our guests. Through the hard work of the Alumni Office we were able to view a display of photos from previous reunions, student publications from 1968, and a selection of the exam papers we sat (and some passed) at the time, as well as details of recent engineering student projects which received financial support from the GU68 Engineers Trust, set up by the year group in 2003.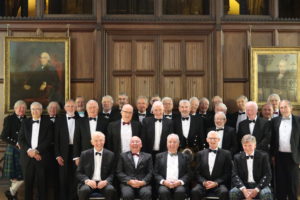 These included the Constructionarium project, which gives civil engineering students hands-on construction experience, and GU Racing's Formula Student racing car built by the current class, which  was on display in the cloisters, with members of the team available to explain their recent successes competing against teams from universities throughout Europe.
Why not contribute to GU68 Engineers Trust? This is your chance to help the current GU Engineering students to gain experience in real engineering through Awards in support of engineering projects, and you will know that your contribution is going to support a cause which you yourself care about. To find out more and to contribute, please contact the Secretary, using the contact form here.