Two teams from UG Racing received Awards.
UG Racing designs and builds a racing car, which it enters in the Formula Student engineering competition run by the Institution of Mechanical Engineers. Student teams from around the world design, build, test, and race a small-scale formula style racing car.
UG Racing is constantly improving the design of its car to be entered in the annual Formula Student event held at Silverstone Circuit in July. The team smashed team records at Formula Student 2018, finishing 11th overall out of over 80 competing Universities. The record performance saw UGR finish 6th out of the UK teams, as well as overall Scottish champions for the first time ever! They performed particularly well in the Business Event, placed 2nd overall, as well as in Efficiency and Endurance, placed 12th and 15th overall.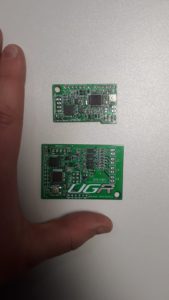 The electronics team received £1 500 to purchase equipment for manufacturing electronic components. The team designs and builds its own electronic devices, which control the car and gather information allowing improvement of the design choices for future projects. All electrical systems on the car, except the engine management unit, are designed and manufactured by students, but manufacturing relies on access to the University laboratories and their equipment, which is not always available. The team is focusing this year largely on data acquisition and reliability, and the funding from GU68 will be used to purchase a soldering station, microscope and other equipment to allow the manufacture of smaller, more accurate boards required by the limited space available for the electronics.
The suspension team of UGRacing received £2 000 towards the machining and manufacturing of wheel assemblies for the Formula Student racing car. A new suspension platform and unsprung assembly was required for the 2019 entry, at the heart of which is a change in wheel diameter from 13" to 10", which necessitates smaller, lighter hubs, uprights and braking systems, as unsprung mass has great impact on vehicle performance and drivability.
Combined with significantly improved suspension geometry that will maximise mechanical grip and enhance driveability, UGR-19 will be the lightest and highest performing car designed and built by UGRacing to date.